The US-based company was quietly developing a nationwide supermarket store when many companies struggled to overcome the pandemic.
In September, the first Amazon Fresh store officially launched in Los Angeles. The 11th Amazon store was established on Thursday, and the company is planning on at least 28 more around the country, from Philadelphia to the Sacramento suburbs. At an Amazon Fresh location in Illinois, the company is also putting a "Just Walk Out" cashierless shopping technology, which was developed for its Go convenience stores, to the test.
Amazon owns a very small percentage of the $900 billion US retail market more than a decade since it began offering groceries, and the company has observed big chains slowly figure out suitable strategies to deliver food online. Industry observers believe Amazon Fresh is a tool for the company to cling to its loyal Prime buyers while still appealing to a wider audience—from lower-income consumers who visit discounters like Walmart Inc. and affluent buyers who often express a preference to online purchases.
Last year, Amazon reached an agreement with a major grocery distributor named SpartanNash Co. that included the right to purchase a share in the company, which business observers saw as a sign of its expectations.
An Amazon representative announced the locations of five potential stores, but refused to answer any questions on the other locations based on planning and permitting records, state licensing rolls, and press stories reported by Bloomberg.
In an emailed response, Jeff Helbling, vice president of Amazon Fresh, said that the company was innovating on behalf of our consumers through our food businesses. They understood that shoppers valued low costs, convenience, and a wide range of products from their grocer, and they claimed that they had all of those items, as well as a smooth online to in-store grocery buying experience.
Amazon Fresh has an upscale grocer's shiny concrete floors and industrial vibe. Digital price tags and clever "Dash" shopping carts that tally smaller orders as shoppers browse the aisles are among the technical highlights. However, this is a typical supermarket, with a merchandise selection that comes in between small specialty stores like Trader Joe's and bigger supermarkets.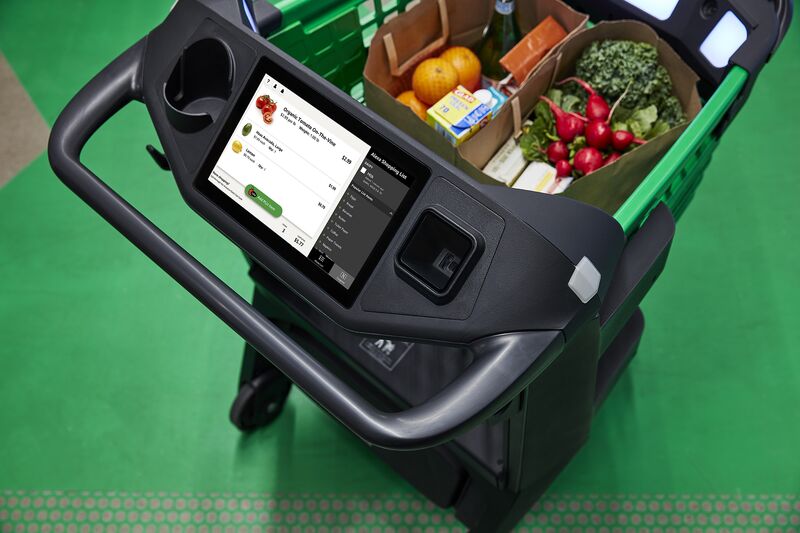 The price levels are low, at least so far. When including items for sale, an Amazon basket of 30 frequently bought food items in a Chicago-area store last month undercut Jewel-Osco, an Albertsons Cos. Inc.-owned mainline grocer, by as much as 20%, which is comparable with Aldi and Walmart.
According to grocery experts, Amazon Fresh stores are expected to be low-cost to open and much lower-cost to maintain, making them the best tool for staking a long-term argument in a notoriously low-margin market.
According to David Bishop, a collaborator with Brick Meets Click, a grocery consultant that performed the pricing research for Bloomberg shared that in order for any company to have a possibility of growing market share in grocery, they had to protect their flank. He said to price-conscious consumers. And instead of being inspiring, the shop is more functional now.
Spooked Rivals
Once news of Amazon Fresh broke in 2019, some in the industry asked whether the business wanted another supermarket chain. Whole Foods Market, which Amazon bought for $13.7 billion in 2017, was expected to kickstart Amazon's grocery business. However, the transaction hasn't turned out to be as game-changing as others had predicted. Despite price cuts and the addition of online shopping, Whole Foods has failed to re-invent itself as a mainstream destination, with supermarket revenue remaining stagnant—even through a recent surge in home-cooked meal options.
Around the same time, Amazon's foray into the supermarket industry has prompted competitors to make a strong bid for customers who want to buy food online and pick it up while they're in the mood. Walmart and Target Corporation raced to introduce in-store pickup and local distribution services that Amazon's much smaller portfolio of Whole Foods stores couldn't accommodate.
Amazon Fresh, for example, has a designated staging area for order delivery and returns. A large frozen meals section is nearby, in an attempt to entice online shoppers to stay and pick up some high-margin snacks, dinner, or a bottle of wine.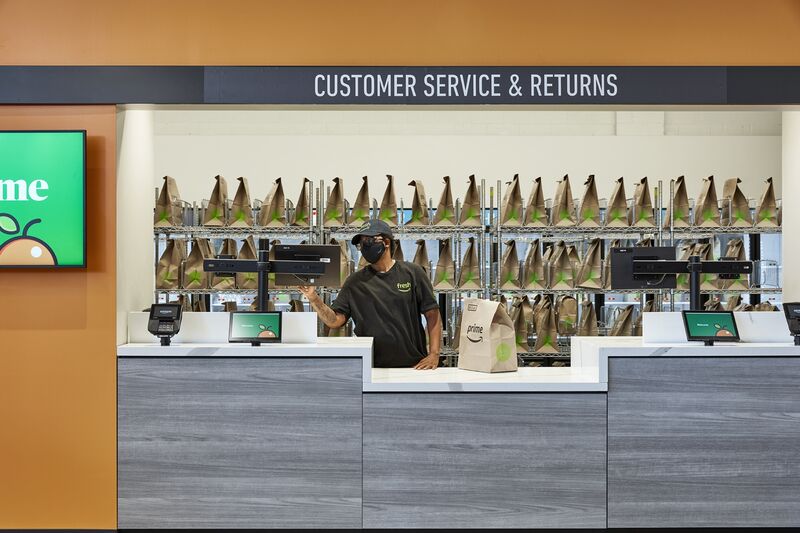 The Amazon company is famous for playing with new retail models before secretly folding ventures that don't succeed or don't achieve their targets, such as hundreds of pop-up appliance shops in malls. In case Fresh's leadership is any indication, this isn't one of them. Helbling, a former technical adviser to Amazon CEO Jeff Bezos, is in charge of the division. Graduates in the chief-of-staff-like role often have first dibs on high-profile positions. Wei Gao, who manages online grocery, and Dilip Kumar, who created the Go stores and whose teams designed the Dash smart carts, are two other Bezos understudies with whom Helbling collaborates.
'Long-Term Play'
Forecasters had long predicted that Amazon's cashierless system will be expanded to bigger stores. The company now owns two Go Grocery outlets, the larger of which is approximately 13,000 square feet in area, or about six times the original convenience stores. New stores are considerably bigger, with ranges varying from 25,000 to 45,000 square feet.
The larger the shop, the more difficult it is to get the cashierless technology to function, but Amazon believes that its new "Just Walk Out" technology can be upgraded. The Fresh store in Naperville, Illinois, does not deliver cashierless checkout, but a representative confirms the firm is exploring the system for future use.
A former senior Amazon staff member who demanded anonymity to avoid breaking confidentiality agreements revealed that it's a pleasant experience, but it's more experimental than anything.  He added, to the company Amazon, new shops are something of an all-in approach. It's a long-term strategic approach.
Fresh's growth was dominated by numbers, as it often is at Amazon. According to a source participating in the preparation, employees looked at the density of Prime members per zip code to better decide where stores could be located. The first 11 sites are all in upper-middle-class residential neighborhoods. Several former Toys "R" Us locations and a bunch of shuttered convenience stores were among the empty supermarket storefronts. The breakeven point of a shop can be significantly reduced by repurposing real estate.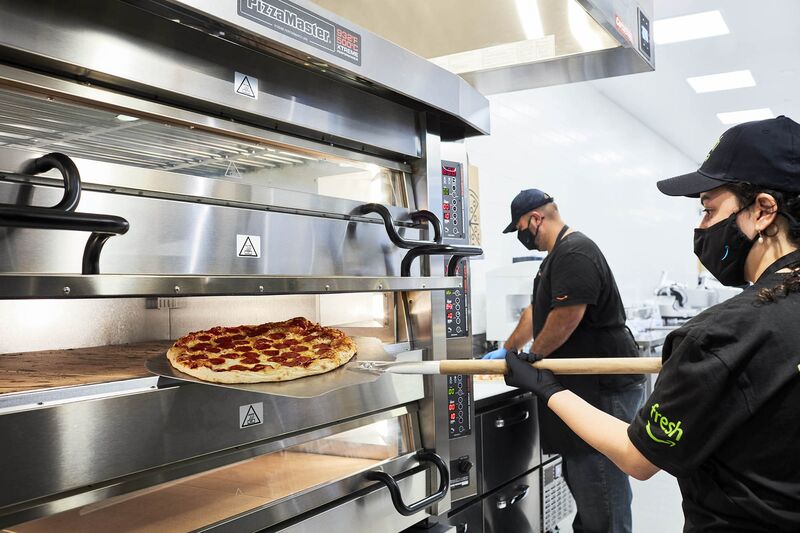 Pizza from a prepared foods section. Source: Amazon
Amazon drew up a catalog of 15,000 items to fill the supermarket shelves, an assortment that satisfies most buyers' everyday needs but falls shy of larger-format groceries, based on extensive studies of buying patterns. That appears to mean a few different tomato soups, not hundreds. There are a lot of private-label artists, including the Whole Foods 365 line, and an extensive alcohol portion.
Amazon also went beyond the company for experience and insight, which was unusual. Veterans of German discounter Lidl, Starbucks Corp., Walmart, and packaged goods manufacturers make up Amazon Fresh's ranks. Amazon also requested input from Whole Foods, which those on the receiving end perceived as an admission that the organization was stepping into its usual environment.
Fresh appears to be on track to eclipse Kumar's Go and 4-star shops, which carry a variety of bestselling brands, as the focus of Amazon's physical retail growth, with at least 39 stores in the works. Commercial real estate agents are salivating about the company's quest for new grocery store locations. From an individual, he said that he would look at an empty box, 10,000 to 30,000 square feet, and say they've got an eye on it. He wanted to stay anonymous to protect Amazon's business relationships.
Despite this, the Fresh launch faces stiff competition in an increasingly crowded supermarket market. Aldi, for example, is planning to open 100 stores in the United States this year. Analysts estimate that Amazon's new chain would need to outperform Whole Foods' approximately 500 locations to make a difference at a $1.5 trillion business.
As a consequence, some are still skeptical. Matt Sargent, a market dynamics researcher with Sargent Up North mentioned that if she was asked three years ago about the future of grocery, She would have predicted a much greater buildout, much more ambitious advancement.