Mutual fund investing can be much easier than investing in individual stocks, especially for beginners. For starters, you'll get the services of a top-notch mutual fund manager at just a small fraction of the cost of a personal investment advisor. This person is usually an expert in the field or sector you are investing in, which means you don't have to be. Then there is the "getting in" factor.
In short, investing in mutual funds is cheap— quite often you can invest in a fund for as little as $25 or $50. Add to the mix flexibility, choice, ease of management, and generally positive performance from stock mutual funds over the years, and you begin to see why these are so popular. Though Americans generally get credit for creating the mutual fund, the idea was generated in Europe back in the mid-1800s.
When the idea finally hit the States, some Harvard University staffers created the first American pooled fund in 1893. About thirty years later, the first official mutual fund was created. Called the Massachusetts Investors Trust, it was heckled by the investment community at the time. Little did they know how popular mutual funds would become. Currently, trillions of dollars are invested in mutual funds in the United States alone.
WHAT IS A MUTUAL FUND?
A mutual fund provides an opportunity for a group of investors to work toward a common investment objective more effectively by combining their monies to leverage better results. Mutual funds are managed by financial professionals responsible for investing the money pooled by the fund's investors into specific securities, usually stocks or bonds. By investing in a mutual fund, you become a shareholder in the fund.
The Sum of Its Parts 

Mutual funds can provide a steady flow of income or can be engineered for growth in the short or long term. The success of the fund depends on the sum of its parts, which are the individual stocks or bonds within the fund's portfolio.
Just as carpooling saves money for each member of the pool by decreasing travel costs for everyone, mutual funds decrease transaction costs for individual investors. As part of a group of investors, individuals are able to make investment purchases with much lower trading costs than if they did it on their own.
The biggest single advantage to mutual funds, however, is diversification. Diversification, the easy accessibility of funds, and having a skilled professional money manager working to make your investment grow are the three most prominent reasons that mutual funds have become so popular.
The History of Mutual Funds 
Currently, the number of mutual funds exceeds 10,000, but as recently as 1991 the number was just over 3,000, and at the end of 1996 it was listed at 6,000. Stock funds are growing as a way to play the market because they don't require the investor to make purchasing and timing decisions.
Bond funds are also growing, partly because of the complexities associated with understanding individual bonds. They are also a way to hold more bonds than the average investor could afford by buying them on an individual basis. Money market funds offer a safe alternative to bank accounts (though they are not FDIC-insured) and provide higher interest rates. As late as the early 1950s, fewer than 1 percent of Americans owned mutual funds. The popularity of funds grew marginally in the 1960s, but possibly the largest factor in the growth of the mutual fund was the individual retirement account (IRA).
Legal changes made in 1981 let individuals, including people who already participated in corporate pension plans, contribute up to $2,000 a year into a tax-advantaged retirement account, which could be invested in (among other things) mutual funds. Mutual funds are now mainstays in retirement accounts like 401(k)s, IRAs, and Roth IRAs (which you can read more about in Chapter 7).
The First Index Funds 

The first index funds were offered by Vanguard. And the first one they offered, created by Vanguard founder John Bogle in 1976 and originally called the First Index Investment Trust, is today's Vanguard 500 Index Fund. In November 2000, it became the largest mutual fund, holding approximately $100 billion in assets.
By the end of the 1980s, money market mutual funds had become a bit of a cult. They offered decent returns, liquidity, and check-writing privileges. But would-be investors wanted more. Then, with computers and technology making information more readily available, the 1990s ushered in the age of the mutual fund.
The Internet allowed financial institutions to provide a great deal more information than they could on television commercials or in print ads. They reached out to everyone, not simply those Wall Streeters who read the financial papers. People saw how easily they could play the market and have their money spread out in various stocks as well as bonds.
Mutual Funds Today 
Every financial institution worth its weight in earnings has a wide variety of funds to choose from. In fact, in 2014, 43 percent of U.S. households owned at least one mutual fund. That makes for about 90 million mutual fund shareholders in this country. Among these 51 million households, the median fund investment is $103,000. And worldwide, there's over $26 trillion invested in mutual funds.
Purchasing funds today is as easy as making a phone call or sitting down at your computer. Fund families (large investment firms or brokerage houses with many funds) noted the surge in popularity of electronic trading. To make funds easily accessible to all investors, they created toll-free numbers and websites that make it easy for you to buy and sell mutual funds. Transactions can also be made by the old-fashioned method of snail mail.
Greater Liquidity 

Another benefit of mutual funds is their liquidity, allowing you to convert shares to cash. A phone call allows you to sell your shares in the fund at its current net asset value (NAV, or posted rate per share). You should have your money in three or four business days.
Electronic trading has allowed investors to trade at all hours from the comfort of their own homes. It's not hard to find the top ten, twenty, or fifty funds, as rated by some leading financial source, and then buy them online. It is also not hard to get addicted to trading and find yourself overdoing a good thing.
The accessibility and ease of trading online and through toll-free numbers have landed many overzealous investors in deep trouble. Many new investors, eager to see quick profits, need to develop the patience and research skills necessary for successful long-term investing.
Diversification 
Investing in a mutual fund is less risky than owning a single stock. That's because the fund is managed professionally and is diversified. Mutual funds offer you diversification without making you do all the work. Funds can hold anywhere from a few select stocks to more than 100 stocks, bonds, and money market instruments. While some funds own as few as twenty or twenty-five stocks, others (like the aptly named Schwab 1000) own 1,000 stocks.
This diversity minimizes much of your risk. If you invest everything in a single stock, your investment is at the total mercy of that stock price. If you buy six stocks, you assume less risk, as it is less likely that all six will go down at once. If three go down and three go up, you would be even. Mutual funds work on the same principle of safety in numbers. Although there are funds with varying levels of risk, many mutual funds offer the investor limited risk by balancing higher-risk investments with lower-risk and thus safer investments.
Diversity acts to your advantage as it protects you against greater swings in the market, be it the stock or bond market. Further diversification can also come from buying more than one fund. You can allocate your assets into different types of funds. If you buy into a few funds in different categories, you'll have that much more diversification and that much less technical risk. For example, your portfolio might include the following:
A more conservative bond fund
A tech fund to cash in on a hot industry
A higher-risk international fund
A low-risk blue-chip fund
A growth fund
However, keep in mind that it's usually not advisable to have more than six or seven mutual funds at a given time, or you can start to counterbalance your efforts to construct a strong portfolio. The idea is to balance your portfolio between more and less conservative, or higher- and lower-risk investments. Your needs will guide how you diversify.
One investor might have 10 percent in bond funds, 20 percent in growth, 30 percent in tech, and so on, while another has 5 percent in tech and 40 percent in blue-chip. That's why there is no one stock investment strategy that's suitable for all. It seems odd to need to diversify your mutual funds since the job of the fund is to diversify the stocks, but it's all part of building a solid investment portfolio. Your mutual fund is the sum of many parts.
Therefore, you may want another fund in your portfolio. Another significant reason for diversifying your mutual fund investments is to spread your assets out across sectors, industries, and asset classes. A fund manager, no matter how skilled, is limited by the goals and the direction set forth by the fund.
The Importance of Fund Managers 
As the rock stars of the financial world, successful managers of the hottest funds appear on financial talk shows. They write books and are the talk of the financial community—that is, until their hot streaks end. In the mutual fund boom of the late 1990s, the successes and failures of fund managers were a phenomenon not only in the financial world but also in the mainstream media, which began to focus its attention on these people who made (or lost) investors so much money.
No Bankruptcy 

Here's an impressive tidbit about mutual funds: Not a single one has gone bankrupt since 1940. This certainly can't be said for banks and other savings institutions. It's just one more reason for the popularity of these funds. No bankruptcy in more than seventy-five years—not bad, huh?
Professional fund managers are another reason for the popularity of mutual funds in the United States. Fund managers are well versed in the intricacies of the national and international fund markets.
To assess a good fund manager, look at his background over several years to determine if he's been consistent in management of the fund or previous funds. You also want to see that the fund manager is holding true to his fund's financial goals.
For example, if you are looking at a more conservative growth and income fund, you don't want to find out that the fund manager is making high-risk investments and taking the fund in a different direction (known in the industry as "style drift"). Unfortunately, fund managers with roving eyes who look at and buy stocks that don't fit the fund's stated objective are more common than you might think. On the other hand, if a fund is struggling, you may appreciate a fund manager who starts drifting for the sake of keeping your investment afloat.
You should also look closely at a mutual fund's portfolio. While you may not be familiar with each and every purchase, you can ascertain whether they are following the latest trends or are bucking the system. If you have heard, for example, that a certain market, such as automobiles, is taking a downturn, and the fund manager is buying heavily in that area, it will mean one of two things. Either he is buying now for an anticipated turnaround (value investing), or he is not keeping up with market news.
You also need to check out changes in fund management. A new fund manager needs to show that she can work within the structure of the particular fund, holding true to the goal of that fund. Fund size and assets can matter as well. A manager who has handled a $2 billion fund successfully may not be as comfortable when dealing with $20 billion. You might also want to know whether this fund manager is working closely with a team of analysts or doing it all on her own. If the latter is the case, you could be in trouble when the manager moves to another fund and takes along her secrets.
Check the Records 

Check the fund manager's reactions to the down market of 2001 and the recession of 2008. See how quickly their funds rebounded. Did she panic and make drastic moves or hold on tight and ride out the storm? Naturally, your assessment of the manager's actions should depend on the type of fund and the particular holdings.
Magazines such as Forbes, Kiplinger's, and Money and online sources such as Morningstar.com rate mutual funds and often give you the lowdown or profile on the fund manager. It's important to look for consistency. A fund manager who has bounced from one fund to another is not a good sign if you want to hold the fund for a long time. It is also not to your advantage to have a fund with a different manager at the helm every year.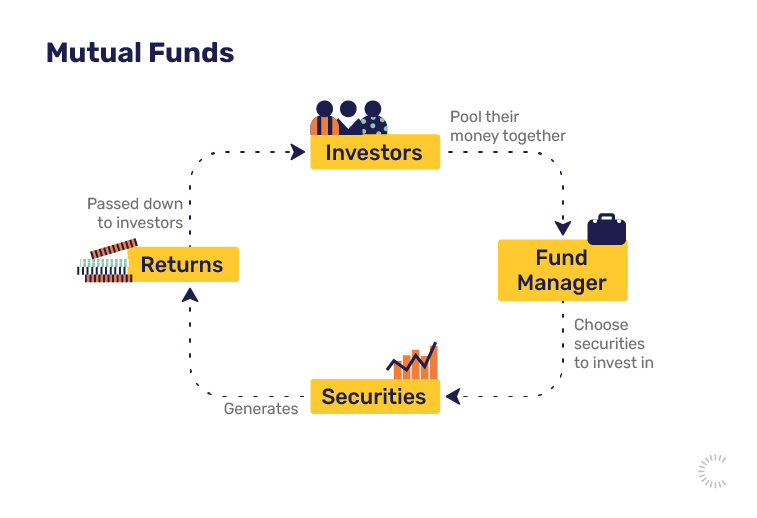 HOW FUNDS OPERATE 
Fund Families and Investment Styles 
Fund families are a large group of mutual funds housed at a single company. You'll often pay lower fees for a fund family than you would if you had one fund at each company; the firm's higher overall investment usually comes with reduced expenses. However, if a fund family starts failing, your eggs are all in that single failing basket. Each fund's investment style should be specific. You should know exactly what types of securities the fund will hold, the approximate proportions for each security type, and how actively the fund will be managed.
Index funds, for example, are not actively managed and hold essentially the same securities as the named index. Aggressive growth funds, on the other hand, are very actively managed and may change their holdings very regularly. When you're investing in more than one mutual fund, it's important to make sure that their styles (and holdings) don't overlap.
There's no point in holding a stock fund, a bond fund, and a balanced fund, for example, when the balanced fund already holds stocks and bonds. In addition, you want to make sure that any mutual funds you choose fit in with your overall portfolio strategy and that you're still maintaining your optimal asset allocation.
Load or No-Load? 
A loaded fund charges a commission or fee. A no-load fund means you have bought the fund on your own. There is certainly enough information available to support the choice of buying a no-load fund. However, if searching for the right fund is taking hours out of your potential income-earning time, you may be better off paying a commission with a load fund and using your time in other ways. As is the case with everything these days, you have more than two choices. While no-loads have gained an edge on loaded funds, many companies have started offering loaded no-loads.
Basically, this means you will be paying a fee somewhere down the line for the privilege of not paying a fee. Whether the costs are for some types of special benefits, a personal finance report, or some other accompanying service, the bottom line is that loaded no-loads are not commission-free funds. There are numerous ways that companies have found to slip fees and payments into their fund business, so read the prospectus carefully. If hidden costs start popping up, you might be better off looking elsewhere. In short, no-loads by any other name are essentially loaded funds. It's to your advantage as a new investor to stick with the basics, either loads or no-loads.
Fees, Expenses, and Operating Costs 
While mutual funds certainly decrease the cost of investing for the individual, there are all sorts of fees and expenses attached to becoming a shareholder in any kind of fund, even a no-load fund. These fees can vary significantly, so it's important that you understand how to find and understand them. Generally listed as the expense ratio, there are several costs that shareholders will pay for services and management of the fund. While the SEC closely monitors funds to make sure they make shareholders aware of all related expenses, it's important that you understand the basics behind these fees and have a sense of what to look for on your own. After all, there are thousands of funds. While some have devised new and inventive ways to bill you, the vast majority are fairly straight- forward about where the expenses are going. International funds often have higher expense ratios than domestic funds because they are dealing with companies overseas.
Save on Commissions 

One advantage of having funds in the same family is that you can save on commissions if you want to sell your shares of one fund and move your money into another in the same fund family. You can also avoid paperwork this way, and that alone can save you lots of time.
A mutual fund operates as a smaller business within the structure of the larger fund family. They share printed materials and costs, such as advertising the financial group, but from the perspective of the fund family, each fund is handled separately. In other words, the expense ratio you're paying for Fund A will not spill over to pay the manager of Fund B. Typical fees to include:
Service fees. These fees are used for the financial compensation of the planners, analysts, and brokers who assist customers with fund-related questions and provide information and advice regarding the fund. Accounting and legal services may also be included.
Administrative fees. These are the fees associated with office staff, office space, and other fundamentals of running a business, including equipment. Sometimes these fees are absorbed into management fees. Office expenses incurred by a fund also include online support and information, check processing, auditing, record keeping, shareholders' reports, and printed matter.
Management fees. This is the percentage that goes to the fund manager. This can be a flat percentage or one set up to coincide with the growth of the fund based on returns. Generally, the bigger the fund's assets, the lower the percentage.
12b-1 fee. This fee (usually between 0.25 and 1.00 percent of annual assets) is used primarily for marketing or advertising the fund. Your fee is not just a contribution to the fund's advertising budget but will hopefully help the fund to grow. In fact, some funds report that because of advertising, their overall expense ratios have gone down as the funds have grown.
Operating costs are also part of mutual funds. This is the money spent to keep the fund afloat. Along with administrative expenses, this includes advisory fees for the fund's analysts and manager. Expense ratios range from less than 0.25 percent to more than 2.5 percent. It is important to take note of the operating costs to determine how much of a bite they are taking out of your profits. This is an area that more savvy investors are taking note of as they compare mutual funds. In their favor, mutual funds buy in vast amounts and save you on broker fees, which would be accumulating if you were buying stocks individually.
Decoding Fund Reports 
Your mutual fund's annual or semiannual report is a tool used to measure how the fund is performing. Among the most significant information within the report is the fund-holdings section. Look over this list carefully to determine whether the fund manager is "style drifting."
In other words, a fund that is supposed to be buying small-cap stocks may suddenly be investing in larger companies; or a corporate bond fund may suddenly be stocking up on Treasuries.
Some questions may arise: Is the fund satisfying my level of risk, or is it becoming too aggressive or too conservative for me? Is the fund becoming less diversified by moving more strongly into similar stocks? Does their current asset allocation negatively impact my asset allocation plan? The holdings will also tell you which companies the fund believes are strong. Look them over, and see if you agree. You may not know all of the companies held, but you should investigate a few.
When looking at the portfolio holdings, you want to find out this important data:
Familiar names. A household name like Coca-Cola won't show up in a small-cap fund, but you are looking for smaller companies that belong in that fund. Just because you own a fund doesn't mean you no longer have to follow the activities of companies and their stocks. If you see holdings in your fund that you don't like, you can look at other funds that have shares of stocks that you feel are more promising.
Portfolio concentration. Besides showing what is in the portfolio, the report will tell you how much, or what percentage, the fund is investing in each area.
Not surprisingly for funds that perform well, this information sometimes jumps off the page. It can be harder to decipher in a fund that is not performing well.
You should know how the fund has performed in both the short and long term. How well the fund has performed compared to a specific (and relevant) index should also be included for analysis purposes. There should also be an explanation of why the fund has performed well or poorly.
Which factors have made an impact on the fund? The report should describe what management has been doing and should include some indication of future plans. After reading the annual report, you should feel either confident in holding onto the fund or determined to sell your shares. If you are left feeling unsettled as to what you should do—because you do not feel you have adequate information or the report is not easily discernible—you should consult print or online sources such as Morningstar.com, Kiplinger's, or the Wall Street Journal for a discussion of your fund. Check your fund's performance online as often as you like; if you feel dissatisfied, you can sell at any time. You should also call the fund or fund family and let them know you have some questions; after all, you are paying an operating fee that includes service charges, so let them serve you by providing some answers. If a fund does not help you feel comfortable, then it's not the right investment for you. Remember, it's your money!
Trading Mutual Fund Shares 
Now that you're better acquainted with the pros and cons of mutual fund investing, you can take the next step. There are many factors to evaluate in light of each investor's goals. But as with all investment opportunities, there's one very important question you need to address: How will you make money in mutual funds?
Mutual Funds for Growth  

Despite common complaints about high operating costs and commissions, mutual funds have shown some tremendous results in recent years. How long the trend will continue depends on a wide variety of factors, including—among others—the economy, the stock market, and the number of successful fund managers.
You can profit from investing in mutual funds the same way you profit from stock investing: If you sell shares of your mutual fund at a higher net asset value (NAV) than you paid for them, you've made a profit. The fund acts as a single unit, and its total return is based on the performance of all the stocks, bonds, and other securities held. So if some stocks within the portfolio aren't performing very well, you can't simply get rid of those losers.
The same goes for high performers within the fund; you can't sell them off to cash in on a strong market price. What you can do is sell off your shares of the fund as a whole, and hope that its current value is more than what you paid at the outset. You may also profit from the fund's performance, and strong performance increases the NAV. To get started, you can buy and sell mutual fund shares directly from a mutual fund company.
All you have to do is call (or e-mail) the fund company, and request an application kit. You fill out a few forms, write out a check, and mail the whole package off to the company. When you're ready to sell, you call or write to the company to let them know exactly which fund and how many shares you want to sell; then you just wait for the check (or direct deposit) to come. For people who plan to invest in several different funds—especially if they're in different fund families—it may be easier to go through a discount broker.
Yes, you'll pay a fee (usually a fairly small fee), but you won't have to slog through reams of paperwork on your own. Rather, you'll fill out a single account application. Another benefit: instead of getting several account statements from all the different fund companies, you'll get an all-in-one statement from your broker, which is very handy at tax time.
Dollar-Cost Averaging 
One strategy that can work well with mutual funds is dollar-cost averaging. Essentially, you invest a fixed sum of money into the mutual fund on a regular basis regardless of where the market stands. Retirement plans and 401(k) plans are generally built on this principle, except they have restrictions on the withdrawal end.
Frequently, an investor will decide to have the same amount of money automatically withdrawn from her account and invested into the mutual fund on a consistent weekly, or monthly, basis—not unlike a 401(k) or retirement plan. Over time, a fixed amount invested regularly, as opposed to buying a fixed number of shares, will reduce the average cost per share. By putting in the same amount, you are buying more shares when the prices are low and fewer shares when the prices are high.
Dollar-cost averaging also eliminates the problems of "timing the market," which can devastate a portfolio. The volatility of the market in recent years has made this method particularly difficult. Fund managers, however, spend a great deal of time trying to time the market—with varying results. And market timing is definitely not advised for novice investors. Dollar-cost averaging can be emotionally difficult at times, though. By investing on a regular basis, you will also be investing during bear markets. But that can be a good thing, especially when you know that effective fund managers will be filling the portfolio with securities that will best weather a market downturn.
FUND TYPES 
Finding Out What You Want 
The most commonly discussed mutual funds on the market are stock (or equity) funds, but they are certainly not the only funds available. They're not even necessarily the best funds. Regardless of the primary fund asset, your profit potential often comes from a successful fund manager, one who has accumulated more winners than losers in the funds—and more shares of the winners. And, as with any investing, your job is to understand what you're investing in, even when you have a fund manager to do the heavy lifting for you. In an age when there are numerous types of Coca-Cola—Classic, Diet, Cherry, Caffeine-Free, Caffeine-Free Diet, Zero, and so on—it should not be surprising that there is also a wealth of mutual fund categories.
As the market continues to grow, more and more types of funds are created, which adds further confusion. This chapter will help you clear this up. When choosing a stock fund, you first want to know its overall goal. For example, does it aim for conservative long-term growth or aggressive short-term growth? Before purchasing a fund, you should ask to look at a listing of the stocks currently owned so you can see if the fund managers are indeed following the plan of action they have listed as their goal. Whether you're interested in index investing, current income, capital growth, good value, or superstar sectors, you can find it in the world of stock mutual funds.
Index Funds 
Index funds strive to match a specific index, and they do that by holding the same securities as the one the named index tracks. These funds are passively managed, meaning that there's not a lot of trading going on, and that translates to lower expenses for you. The investment objective of this fund type is to mirror an index, the most popular of which is the S&P 500. From 1987 through 1997, the S&P 500 performed better than 81 percent of general equity funds.
Then from 2001 through 2007, the S&P 500 trailed about half of the actively managed funds. Index funds proved their worth during the down markets of 2008 as well, disproving the commonly held belief that active management does better in bear markets. In fact, S&P indexes outperformed managed funds in all categories but one (large-value stocks) during the 2008 bear market. That includes the gold standard itself: The S&P 500 Index outperformed 54.3 percent of all large-cap funds in 2008.
Index Funds versus Managed Funds  

Vanguard founder and indexing guru John Bogle claims that index funds will beat 70 percent of managed funds over time. If this claim is true, that means there are plenty of funds out there that can outperform the index.
Index funds offer an easy way to stick with a successful benchmark that everyone uses—and they are not limited to popular benchmarks.
There's an index to track virtually every kind of investment there is, from micro-cap stocks to South American stocks to natural-resource stocks. They allow you to be in specific sectors and to invest in both growth and value stocks, giving you maximum diversification. If the benchmark is the standard, after all, why not go with it?
Growth and Income Funds 
You've entered the investing world to make money, and there are two primary ways to do that: growth and income. Growth securities you buy today will be worth more tomorrow. Income securities will pay you interest or dividends at regular intervals right now. And there are funds designed for each, even for both.
Growth funds don't focus on the current price of a stock; rather, their concerns center on the sales and earnings of the company and the expectation that both will grow, which will cause the stock price to rise. The idea is not the traditional "buy low, sell high" principle; rather, it is "buy at whatever price and watch the company build momentum, get on a roll, and grow." Growth investors seek out companies that have tremendous potential, based perhaps on new products, unique services, or excellent management. Long-term growth funds seek to capitalize on larger, steadily growing companies like Microsoft. Aggressive growth funds involve small- er companies that are taking off fast like Amazon.com.
Aggressive Growth Funds 
Sometimes called capital appreciation funds, these are the funds that generate the most press. When they go well, they go very well. Some of these have produced tremendous results—but the opposite is also true. Investors should know that this volatile category can turn around very fast. Aggressive growth funds look for companies poised to grow in the short term, which is why they are riskier investments.
Income Funds 
Income funds are best for investors who want to see results right away, in the form of steady income. These funds hold dividend-producing stocks and pass those dividends along to fund shareholders. Some of these funds may also hold interest-paying securities, like bonds; these earnings are also passed on to the fund holders. Even though that income is yours right away, you can choose to reinvest it rather than receiving a regular check. Be aware, though, that these earnings are taxed whether you take the cash payment or reinvest it. Straight income funds are considered conservative by nature, seeking as their primary objective to pay you dividends from consistently well-performing companies. One of the nicest aspects of an income fund is that the companies that pay dividends, hence those in the portfolio, are usually not affected greatly by downturns in the market.
Combination Growth and Income Funds 
You might also choose to go with a fund that specifically seeks out companies whose stock is not only expected to grow but also pays dividends. Such a fund pro- vides steady income, which is attractive to anyone who likes to maintain cash flow even during major dips in the market. A growth and income fund can also work very well for an individual who may be retiring but still wants to have money in the market. Such a fund will provide cash toward living expenses while allowing the investor to maintain some capital.
Value and Sector Funds 
A value mutual fund invests in stocks that are undervalued. These are companies that—for one reason or another—are struggling, and while the stock prices are low, the actual value of the company may be much higher. Sometimes it's a matter of too much market competition; in other cases, a company may be lagging behind in the latest technology or has not made a major impact of late. However, if the P/E ratio and book value of the stocks in the portfolio are good, the fund can be worthwhile. Although in recent years, value funds have been outperformed by growth funds, they adhere to the old adage "buy low, sell high." A stock that is valued at $40 but selling at $20 allows you more room for error. Even at $30 per share, you would still come out ahead.
Sector funds concentrate their holdings in one industry. Rather than spreading your investment around among various types of industries, they choose stocks from one particular industry, such as oil, health, utilities, or technology. Like market timing, the idea behind buying a sector fund is to select an industry that you foresee taking off in the next few years. For example, new health-related technologies have people looking at the stock in companies doing new and innovative things in medicine. Internet sector funds may also generate more attention, but be careful that an overabundance of Internet providers doesn't bring prices back down to earth. A sector fund can give you a bumpy ride if you are planning to stay there for the long haul.
International and Global Funds 
Many investors assume international and global funds are the same. They're not. While global funds include securities from the whole world, international funds do not include securities from the home country of the investor. So, to an American, an international fund would not include U.S. securities, but a global fund might. Many international funds spread your investment around, buying into markets worldwide, while others look at the economic potential of one country. International specialized funds have not fared well over the past three or even five years. Recent returns are also down, largely as a result of the worldwide financial crisis that started in 2008.
Regional and Country Funds 
International funds can be further focused on regional or single-country funds. Regional funds put your investment dollars in a specific geographical area, such as Asia or South America, offering you broad access to a small region. Single-country funds, as the name, clearly states, buy up securities issued in a single country. Mexico, Japan, and Germany are among the most common.
Usually not the place for a beginning investor, international specialized funds can be risky because of the high volatility of many overseas markets. For that reason, it may be best to strictly limit your holdings in these funds to a small portion of your total portfolio. Remember, other funds you hold may already be investing a small portion into overseas investments, thus dabbling in the arena and letting you have some foreign diversification. Changes in currency and politics make it hard to assess, even for fund managers, what the future investing climate will be on a global basis.
Balanced Funds and Asset Allocation 
Balanced funds are characterized by their balanced approach to investing, just as the name suggests. They derive capital gains from a mixed bag of investments, primarily consisting of stocks and bonds. This is ideal for those investors who do not want to allocate their own portfolios. Balanced funds provide maximum diversity and allow their managers to balance more volatile investments with safer, low-risk investments such as government bonds. Naturally, since this type of fund can have a wide range of investments, it is important to look over the fund's portfolio and get an idea of what makes up the balance in your balanced fund.
The combination of good returns and nice yields makes these funds worthy of your attention. Like a balanced fund, an asset allocation fund maximizes diversification. The fund is managed to encompass a broad range of investment vehicles and asset classes. If managed correctly, an asset allocation fund will include a mix of stocks, bonds, and short-term instruments and distribute the percentage of holdings in those areas providing better returns. Whereas a balanced fund tries to maintain a balance between stocks and bonds, an asset allocation fund can be 75 percent stocks one year and 75 percent bonds the next. This is largely dependent on the market. If the economy slides into a bear market, the percentage of bonds will rise; in a bull market, the percentage of stocks will be higher. Factoring in each type of investment, the fund manager has a wide range of choices across asset groups. In a broad sense, this is a matter of market timing. These fund managers have more leeway, as they are not locked into a set percentage allocated to one type of investment.
Large-Cap, Mid-Cap, and Small-Cap Funds 
In the world of mutual funds, "cap" means "capital," and it indicates the size of the companies the fund invests in. Large-cap funds invest in major corporations; small-cap funds seek out smaller, often growing companies, and the investments of mid-cap funds are somewhere in between. The larger, more established companies usually present less risk, and therefore large-cap funds tend to make safer investments.
Small-cap stocks can take off and have often fared better but present a greater risk since these companies are trying to establish themselves. While some small-cap companies have become huge quickly, others have moved along slowly or vanished into oblivion. Small-cap funds can sometimes be deceiving. A company that starts out small and continues to grow is ultimately no longer a small-cap company.
Yet it still may remain in the fund. After all, why throw out your ace pitcher even though he's no longer playing in Little League? E*TRADE was a small-cap company found in many small-cap funds, but as it grew and brought the funds high returns, fund managers and investors enjoyed reaping the rewards, so it stayed.
Use Cap Funds to Diversify 

Investing in different types of cap funds primarily serves to diversify your investments. You don't want companies that are all the same size because success does go in cycles. In 1998, large-cap funds sitting with Coca-Cola, General Electric, IBM, and other giant companies performed better than the small-cap mutual funds. One of the possible reasons is the tremendous growth in investing by a much wider sector of the population.

As more and more people get into the stock market and buy into funds from their home computers, they tend to be more comfortable—at least in the beginning—buying stock in larger, more familiar companies. There's nothing wrong with this. After all, unless you've taken the time to sufficiently study some new, small-but-growing plumbing- supply company, you too might lean toward the more familiar Walmart or Disney.
Some small-cap companies, such as those in the technology sector, are also very well known to the computer-friendly population, which is why companies like Intel or Dell Computer can also shine. As the newer online investors become savvier, they too will branch out from safer, more familiar territory and explore the many growing companies.
What Is a Mega Fund?  

This is a fund that buys into other funds. Like a big fish eating smaller fish, it looks at the smaller funds and lets you diversify your diversification. As the number of mutual funds grows, you may see more mega-funds buying mutual funds much the way mutual funds select from the thousands of stocks at their disposal.
Bond Funds 
Bond mutual funds are generally less risky than stock mutual funds, but they generally do not yield the same high rates of return as stock mutual funds. When you purchase a single bond, your money is tied into the bond until maturity. You can sell the bond, but sometimes bonds can be more difficult to sell because they trade in the bond market. Buying and selling the bonds is the job of the fund manager. A bond fund, thanks to interest, can provide a monthly check, which can also be reinvested into the fund. Remember that your principal is not secured in a bond fund. Should the fund price drop, you could lose some of your initial investment.
The price of the fund dictates the worth of your investment rather than the underlying bond holdings. The value of the bonds in the portfolio will fluctuate until they reach maturity, based inversely on the interest rate. While looking through bond funds, you will notice the three primary types of bonds represented: municipal, government, and corporate. International bond funds also exist. As is the case with stock funds, there are different levels of risk associated with different types of bond funds. The greater the risk (when dealing with junk bonds, for example), the greater the potential returns, and vice versa. When dealing with low-risk government bond funds, the rate of return is relatively low.
Municipal Bond Funds 
These are bond funds that invest in either intermediate or long-term municipal bonds. Such money is often allocated to worthwhile projects, such as building new roads, repairing older ones, upgrading sewer systems, or other projects that both produce revenue and add to the community. An incentive of such munis, as they're often called, is that they generally offer you income that is not taxed.
The tax-free bond funds, while paying lower yields, are often paying as much or more than many taxable bond funds because you are not paying those ugly federal—and, in many cases, state—taxes. Municipal bond funds can be national, investing in municipalities nationwide; statewide, investing in specific state municipalities; or local, investing in local municipalities.
If you are in a state with high taxes, you may find these funds to be appealing because you avoid such taxes. Crossing state lines, however, may require you to pay taxes. In other words, you may be taxed in your home state if you buy a municipal bond from another state.
U.S. Government Bond Funds 
You want a low-risk investment? Invest in the government. Despite high deficits and outstanding loans to countries that no longer exist, the U.S. government has never defaulted, and there is no risk in the securities in a government bond fund. These funds hold Treasury securities, bonds, and notes, as opposed to savings bonds.
There is some volatility because the fund managers do trade on the market, but for the most part, this is a very safe route, and many people will use a government bond fund to balance out other funds they hold. Since there are not as many choices in regard to government bonds, and since the risks are significantly lower, many investors do not bother looking for such a fund. Instead, they simply purchase their own government investment vehicles from the government directly, since it is so easy to do.
Corporate Bond Funds 
The majority of the holdings in this type of fund are, as the name implies, in corporations. Like equity funds, there are a variety of types of corporate bond funds, and they differ depending on the corporations from which they are purchasing bonds and the length of the holdings. Bond funds that buy high-grade (or highly rated) bonds from major corporations are safer on the fundamental risk scale than other corporate bond funds. They also tend to produce slightly better returns than government bond funds over time.
Specialty Funds  

Specialty funds describe funds that don't quite fit into any other category. These funds often hold more unusual investments, like precious metals, currencies, commodities, and stock options. These funds come with a higher risk, but they also carry potentially higher rewards.
However, some of these funds cheat a little, albeit legally, by owning a small percentage of lower-grade bonds to balance out their portfolio and—if they pick the right ones—enhance the numbers slightly.
As is the case with most funds, there is some flexibility beyond the category in which the fund falls. Beware of bond funds that buy from corporations issuing bonds that are below in- vestment grade. These junk bonds produce a high-yield fund that can be more volatile than many equity funds. The risk of the company backing this bond is higher, and therefore, the yield is also higher to compensate. In short, junk bond funds mirror junk bonds (which are high-risk bonds), only the fund contains more of them.
Choosing Bond Funds That Work for You 
Just as you would consider the track record of a mutual fund before buying, you need to examine a bond fund's history before making your investment decision. In addition to learning the fund's track record, you need to ask some key questions when it comes to picking bond funds:
Is the fund picking bonds with long or short maturities?
What quality bonds is it selecting?
Am I in the market for taxable or nontaxable bonds?
Who is doing the picking?
What do interest rates look like today?
How will the current interest rate environment impact my investment?
Bonds with longer maturities and bonds of a lower grade, or lesser quality, are riskier, which taps into your risk/tolerance equation. Risk tolerance is always a key factor in your investment selection process. Although bonds are generally perceived as a less risky alternative to equity investments, there are risks in the bond market and in bond funds. Since bond funds do not hold onto most of their bonds until maturity, longer-term bonds will have more time to fluctuate and may therefore be riskier. If the bonds were held until their final maturity, these changing rates would not matter.
Balancing with Bonds  

Many people select bond funds to round out an equity fund portfolio, with perhaps two stock funds and two bond funds, or one balanced fund and one bond fund. The inclusion of a bond fund is often meant as a conservative safeguard in the portfolio.
The taxable/nontaxable question reflects primarily on municipal bonds. Why in the world would you want a taxable bond if you could own one and pay no taxes? Well, a 12 percent yield on a junkier bond, after taxes, still earns you more than a 5 percent yield on a tax-free bond.
Also, if you are buying the bond fund in a tax-free vehicle, such as your IRA, why purchase a tax-free fund? You are already not paying taxes on your IRA investment, so it's a useless advantage. Depending on your current investment strategy and the amount of time you have remaining until retirement, consider holding taxable bonds (to preserve principal) or a bond fund (to balance out an equity-laden portfolio) in your tax-free retirement vehicle. As for management, you must once again evaluate how the fund is run. Bond funds generally have fewer operating costs than equity funds. However, they generally have fewer high payoffs. 
Just like the equity fund player, however, someone who is primarily investing in bond funds may allocate a certain amount to safer funds while putting the rest in lower-grade or riskier funds. The higher-yield funds do have their share of successes, and with the right fund manager, they, like a good equity fund, can be profitable. Unlike owning one junk bond, a high-yield fund will consist of a carefully balanced portfolio. If one or two of the issuers' default, you will still be fine due to a great deal of diversification in that area. 
Like all other areas of investing, bond funds offer higher rewards for higher risk. While there are many funds to choose from, it's also to your advantage to understand more about bonds in general.
Improve Trading Skills with Daily Investment
Learn how to trade – or develop your knowledge in the economy – with free online courses, advice, and consultancy. All from an expert team with many years of experience in finance and business. Learn at your own pace with useful, step-by-step lessons in detail – including videos, interactive exercises, and documentaries to help you check your understanding. CFDs are complex, high risk, and losses can be substantial.