To create a budget that will help you meet your financial goals, you first have to figure out what your goals are and define them. This step will help you see and measure your progress, allowing you to make any necessary adjustments along the way. The key here is to think SMART:
Specific
Measurable
Achievable
Realistic
Time-oriented
Framing your goals this way gives you a much better shot at reaching them and continuing forward financially. Start by coming up with three SMART goals, and make sure to write them down. According to research, the simple act of writing down your goals makes you much more likely to achieve them.
Check out these things before starting:
GET SPECIFIC 
When you're thinking about your goals, make them crystal clear. Saying "I want to be rich," for example, won't get you there. But add some specifics to that idea, like "I want to have $1 million in my retirement account," and you're already starting on your way. Think about the things you want to do with your money, and add explicit details to turn those general ideas into specific goals with definite dollar amounts. Here are some examples of transforming ideas into goals:
"A car" becomes "Buy a used Subaru Outback for $8,000."
"A vacation" becomes "Take a two-week trip to the Italian Riviera next summer for $3,500 by staying in an Airbnb."
"Retire early" becomes "Create a $1,500,000 nest egg so I can stop working by the time I hit 50."
Adding these vivid details helps bring your goals to life, making them feel more like something you really can do. You can more clearly see where they stand now financially, how much more you'll need to save, and how long it will take you to meet them.
TAKING MEASURE 
Without a clear way to measure your progress, it's easy to get frustrated and give up on your goals. When you make your goals measurable ("save $1,000 in my emergency fund"), you can see every step that takes you closer, and those steps feel like small victories. Measuring also helps you stay motivated. Whether you carve your goal into a series of more quickly reachable mini-goals (cheering every $100 on the way to $1,000) or make yourself a visual (like the color-in thermometer signs that charities use), active measuring will keep you on track and excited about hitting your targets. That doesn't mean you should check in every day. Measuring too often can be frustrating because the progress seems to move at a snail's pace. Figure out reasonable check-in periods based on your budget so you can see significant changes. For example, if you're saving $50 a month toward a $1,000 goal, checking in every three months will give you a better boost than checking in more often would.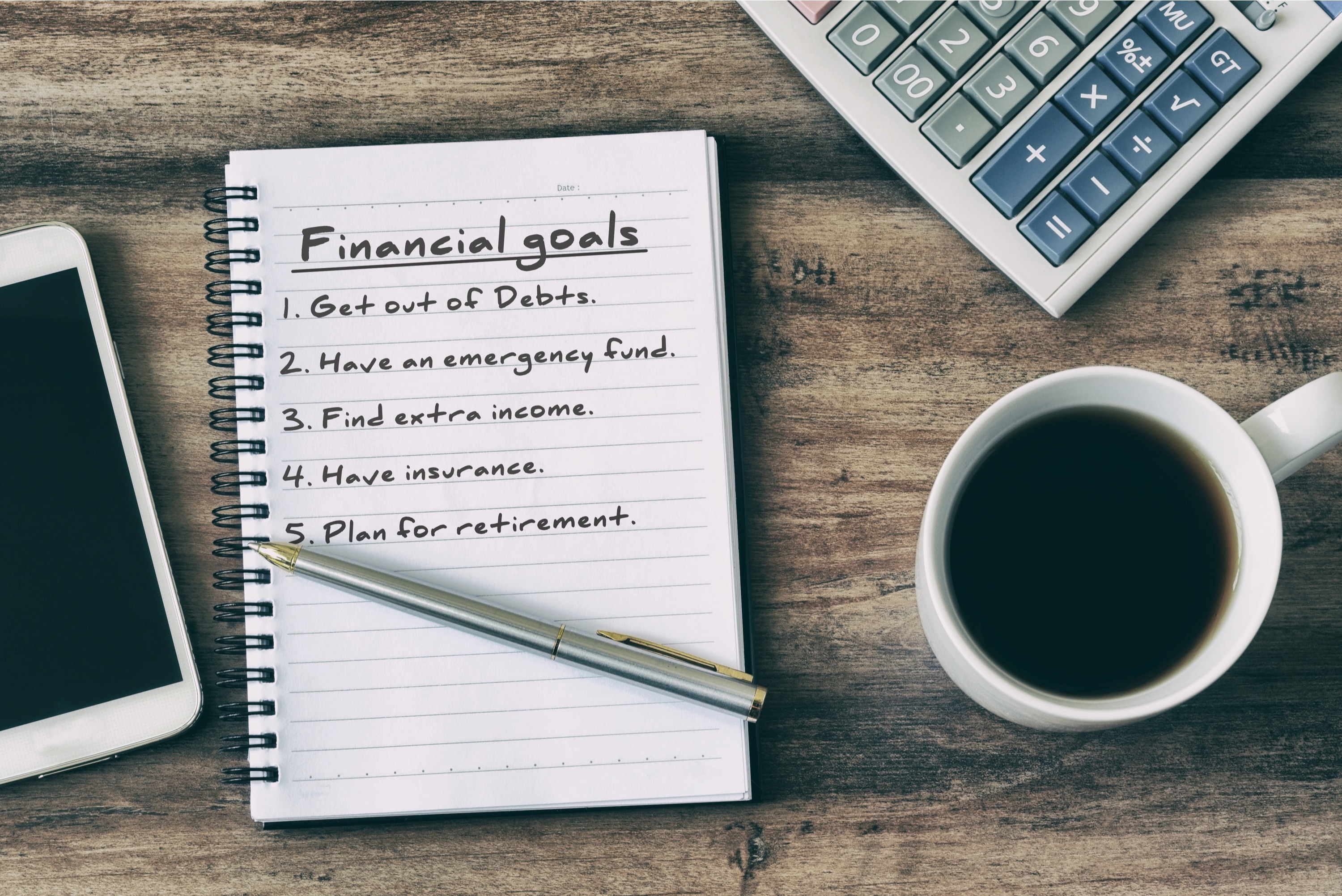 ACHIEVABLE AND REALISTIC 
In order to meet your goals, they have to be possible—and that means both achievable and realistic. If they're not, you'll fail to meet them, and that can quickly derail your motivation and undermine your financial future. Here, achievable and realistic mean workable within your budget. While it's not possible to save $30,000 in one year when you're earning $25,000, you can set an achievable goal of saving $1,000. Maybe putting away $100 a month wouldn't be realistic in your situation, but banking $85 is something you can do. Make sure the goals you set can fit into your budget without crowding out any necessities. As you begin to bring in more money and work to control unnecessary spending, you'll free up even more space in your budget. That will allow you to set bigger goals that you'll have no trouble reaching.
SET A TIME FRAME 
Time is another key factor in goal setting and tracking. For one thing, it sets the clock running, which will encourage you to get moving. In addition, the time frame may affect your goal-reaching strategy. Let's start with the tracking point. It's harder to gauge an open-ended goal than one with a clear endpoint. With a clear time frame ("save $1,000 in four months"), you can easily see what you need to do to reach your goal (save $250 a month). Remove the time frame ("save $1,000"), though, and your goal seems less urgent and easier to ignore. Locking in a time frame also adds a motivation factor. Working to a deadline forces you to get the job done by regularly taking the steps you need to meet your goal.
The Scoop on IRAs 

IRAs are individual retirement accounts, and there are two main types: traditional and Roth. Traditional IRAs give you a current tax deduction and let your money grow tax-deferred; you don't pay any taxes until you start pulling money out. Roth IRAs start with after-tax money (no deduction now), and let your money grow tax-free; you won't pay tax on any of the earnings or future withdrawals.
Then there's the path to reach your goal. For short-term goals, less than three years away (maybe buying a car or going to Mardi Gras), you want to keep your money somewhere completely risk-free, like a savings account. For longer-term goals, like saving for retirement or for your kids' college, you have more flexibility and more time to recover from potential setbacks. That gives you the opportunity to invest at least a portion of the money you're putting toward that goal and let compounding do part of the work to move you closer to meeting it.
BREAK GOALS DOWN INTO STEPS 
Once you have your SMART goals written down, figure out what steps you need to take in order to meet them. Listing those steps offers you a framework to follow so you'll actually get started and stay on track. For example, if your goal is to save $5,000 toward retirement this year, your steps might include things like "open a Roth IRA account" and "set up weekly automatic $100 transfers into the IRA." If your goal is to work on paying down your student loans, steps might include "verify my student loan balance" and "look into alternative repayment plans." Cross off each step as you accomplish it and each mini-goal as you meet it. That might sound silly, but studies show that the act of marking things as done releases positive brain chemicals, sort of like winning a prize. The better feelings your brain associates with your goals, the more you'll want to keep going.
KNOW YOUR PRIORITIES
You know what's most important to you, and you can create your budget to reflect your financial priorities. For example, if buying your dream house is more important to you than saving for retirement, saving up a down payment will take a higher priority in your plans than 401(k) contributions. That doesn't mean you can't do both but rather that you'll budget for money going into the "house account" before you budget extra money for retirement savings. Keep in mind that some financial goals can help pave the way for others.
For example, paying off high-interest debt will make it easier to save up for a down payment. Not only will the payoff free up space in your budget, but it will also reduce the amount of interest you would have had to pay, which means even more money toward your house goal. Plus, debt repayment has the added effect of improving your credit score, which can get you a better interest rate when you get a mortgage. If you've never really thought about things like this before, using prompts can help. Websites like www.smartaboutmoney.org offer all sorts of worksheets, tools, and quizzes to get you started and help clarify your financial priorities.
RANK YOUR FINANCIAL GOALS
Now that your SMART goals are set, you'll decide which are the most important to you and to your financial future. Those will be the highest-ranked goals, taking top priority in your budget. Try to think financially rather than emotionally as you rank your goals. It's natural to prefer working on fun things (like vacations) to burdens (like credit card debt). But paying down your credit card debt as the first priority will help you get to your vacation without the shadow of even more debt hanging over your fun.
How Do Your Goals Stack Up? 

According to a 2017 survey by NerdWallet, 89 percent of Americans have financial goals. Paying down debt scored the top rank (58 percent), followed by general savings (53 percent), avoiding new debt (42 percent), saving for a vacation (31 percent), and starting or increasing retirement savings contributions (28 percent). 
To keep yourself motivated through chore-type goals (like paying off student loans) until you make it to more pleasurable goals (like spending a year in Paris), use the fun goals as your incentive. For example, tell yourself that "After my student loans are paid off, I can start saving for my year in Paris." By connecting the two goals (also called stacking goals), the higher priority chore-type goal will start to feel less like a burden and more like a gateway to what you really want.
SET THE TIMELINE 
Now that you've prioritized your goals, sort them into time-based categories: short-term, mid-term, and long-term. Short-term priorities take place within two to three years. These might include things like saving up for a new laptop so you can start freelance writing or going on a family vacation over the holidays. Mid-term priorities are three to five years out from now and could include things like replacing the car you're driving now or remodeling your kitchen. Anything further off than five years fits in the long-term category. That's for priorities like paying off your mortgage or enjoying your dream retirement.
Putting your priorities on a timeline lets you save for all three categories at once but in different ways. For short-term priorities, you need risk-free, easy-access cash. That means putting the money you're saving toward those priorities in regular savings accounts or money market accounts that are insured by the Federal Deposit Insurance Corporation (FDIC). You won't earn much interest, but your money will be safe and there won't be any penalties when you take it out.
For your mid-term priorities, you still want to stick with risk-free or very low-risk places to park your money, but you have a little more time to play with. You can earn a little more interest with certificates of deposit (CDs) that lock in your money for a while (you choose the term to match your time frame) or low-risk investments like high-quality bonds or stocks (but be aware that those holdings could lose value). For your long-term goals, you can sit back and let your money work for you. With plenty of compounding time on your side, you could end up with more money even though you're putting away less. Here, you can go with riskier choices, like stock-based ETFs that have the potential for a lot of growth over time.
THREE MAIN STEPS FOR YOUR BUDGET
Making a budget is not a one-shot deal: it's an interactive, evolving, flexible plan that requires some ongoing attention. You'll experience many life changes, from getting raises to moving houses. As you go through these events, your budget will come along with you. And even when you're not going through a change in your life, your budget may need to. After all, your finances aren't static. Even fixed income and expenses can change. For example, new tax laws can change your take-home pay even if your salary stays the same. Other items that get deducted from your paycheck (such as health insurance premiums) could increase, resulting in less take-home pay.
On the expense side, even steady expenses like your rent or mortgage payment can increase periodically. And inflation almost always hits expenses harder than income, meaning your regular monthly costs will go up faster than your salary. First, though, you have to build your initial budget based on the information you have now, your current income, and expenses. Then, as your financial situation changes or you decide to manage your money differently, you'll make appropriate changes to your budget.
BUILD YOUR BUDGET 
To create a workable budget, no matter what platform you decide to use (pen and paper, software, apps), you need to gather some information and analyze it. Luckily, there are some very quick and easy ways to do it that don't involve you poring over receipts and doing a bunch of math (although if that's what you prefer, you can work out your budget on paper).
The idea is that you need to know—not guess—how much money you have coming in, how much you're spending, and what you're spending it on (most people are very surprised when they realize where their money is actually going).
Income and Spending 
On the income side, you'll include all the money you can count on receiving. That includes things like your paycheck, business income, interest and dividends, child support and alimony, and cash from any other reliable sources. The spending side is a little more complicated since money usually flows out to more places than it flows in from. Start with your fixed expenses, the ones that are the same every month, such as your rent or mortgage payment, minimum credit card payments, loan payments, insurance, cell phone bill, and savings. Tackling variable expenses is a little trickier, so you'll have to look at a few months' worths to get a good sense. These would include things like:
Electric bill
Groceries
Gas
Clothes
Socializing
Inside the fixed and variable categories, take a look at which expenses are necessities and which are discretionary (things you don't need to get by). Once you have all of that information in front of you, you can start making decisions about what you want to be doing with your money. Your budget will set the framework for those choices, laying out how you want to split up your income and where you want to make spending changes.
Food Plummets, Housing Soars

The way Americans divvy up their budgets has changed dramatically over the past few generations. The Bureau of Labor Statistics looked back over 100 years of family budgeting and came up with some very surprising findings. In 1900, families dedicated 43 percent of their budgets to food and just 23 percent to housing. Flash forward to 2003, and those staples flip-flopped, with families spending 33 percent of their income on housing but just 13 percent on food. 
 FOLLOW YOUR BUDGET 
Once you've created your budget, you have to follow it to see if it works for you. Try to stick with the spending limits you've set, even if it's tough, in order to see if you've created a realistic budget that you can actually live with. In order to follow your budget, you'll need to do some planning or it will be very hard to stay on track. For example, now that you have assigned a specific dollar amount to spend on groceries every month, plan your meals and create shopping lists that stick to the budget rather than just walking around the store and grabbing what looks good.
When a budget category runs out of money, stop spending money in that category for the rest of the month. One of the easiest ways to help yourself stay on budget is to automate as much of your spending as you can. Setting up automatic bill payments makes sure everything gets paid every month, on time, protecting you from expensive late payment fees. Automate your savings so the money you've designated for goals doesn't get used for discretionary spending instead. Equally important is to stop spending with your credit cards until you get the hang of following your new money plan.
Credit cards make it much too easy to go over budget, which will make your next month's available cash even tighter. Using budgeting apps can help you stick to your budget in a way that some other budgeting methods can't. Because they track your cash in real-time, you'll be alerted when you're coming close to topping out an expense category.
REVISE YOUR BUDGET 
As you work to stick to your budget, you may realize that some of the numbers just don't work or eventually stop working. That calls for a budget tweak to make sure your money plans fit your real-life and your true spending patterns. Just make sure that your total budgeted expenses don't exceed your income and that you're not budgeting to accommodate overspending. When you're working with a budget for the first time, several of your estimates may be off. That's especially true if you decide to include some spending cuts, and they go too far.
For example, if you budgeted $400 a month for groceries and you actually spent $600 on food, that line item needs another look. Also, if you notice you're frequently stealing from "groceries" to pay for "clothing," you'll need to either adjust the dollar amounts assigned to your budget categories or keep a closer eye on your spending. You'll also revise your budget whenever there's a change in your life or financial situation. Events such as getting a raise, having a baby, or selling a house will dramatically change your cash flow situation. Making sure your money plan reflects the "new normal" will help you keep your financial goals on track.