The details of investing in real estate investment can be overwhelming. There's a whole new language to learn: closing costs, resale value, liquidity, and inspections. But if you're willing to overcome your apprehensions, you'll find that real estate can be a wise investment. If you are considering investing in real estate, it's important that you do your research so that your investment will turn into a profitable venture. It's harder to get out of real estate than a stock or bond purchase, so educate yourself and make sure you understand exactly what you're doing.
A real estate investment is generally tangible—you buy land or property that you can actually see. Think about how stocks and bonds work. You invest your money in a company you do not physically own. By buying shares, you are in essence lending the company your money and hoping for a profit. With real estate, you own the "company," so you need to sell "shares" of it to see a profit—by selling or renting the property.
Check out our series of investment guides for beginners:
LEVERAGING 
The Power of Debt 
Leverage, plain and simple, is debt; it's using other people's money to buy what you want, which actually allows you to use less of your own money to get more property. In real estate investing, leverage can make or break your portfolio. With the right amount of debt taken out on the right lucrative properties, you can make a killing in real estate using very little of your own money. But there's a downside: too much debt or unaffordable debt coupled with shrinking property values can spell financial disaster. There's a pretty fine line between the two, and as long as you stand firmly on the profitable side, real estate investing can provide solid re- turns—but it will take a lot of legwork on your part to pull this off.
Inflation 

You must consider inflation when investing in real estate. Believe it or not, a real estate investor can reap profits from inflation alone. Check out this example. An investor has $30,000 worth of equity in a $100,000 property. With a 3 percent inflationary increase in property values, her holdings are now worth $103,000—a $3,000 increase. That $3,000 increase on her $30,000 investment translates into a 10 percent return—due solely to inflation.
Here's the key to success: You have to be smart about your borrowing. Never borrow more than you can afford to pay back. Always understand all the terms of your loan contract, particularly if you take on an adjustable interest rate (also called a variable interest rate). Don't let anyone talk you into a loan that doesn't make sense.
Bubbles and Scams  

A big part of the Great Recession of 2008–09 was an overinflated real estate market. Urged on by brokers, many people purchased homes beyond what they could afford. Particularly dangerous were adjustable-rate mortgages, in which the mortgage premium suddenly—often dramatically—increased after several years. Many of these homes went into foreclosure. Be alert as well for scams. If someone tells you that you can buy a property with "no money down," ask yourself if this offer sounds too good to be true. If it does, it probably is.  
When you borrow wisely, you can use the bank's money to acquire and improve in- vestment properties. At the same time, you can invest your own money in other ways. This means more money is going to work for you, which increases your port- folio's profit potential. When everything goes your way—you quickly flip a property for a profit or immediately land a golden tenant who always pays the rent on time— you can pay back the loan with your investment cash flow and keep a tidy profit for yourself.
Of course, there's a downside. When circumstances are less favorable, as they usually are, you may end up struggling to pay the investment property loan. That's why it's critically important to only get a loan you can afford to pay back even if you don't get a tenant or can't sell the property right away.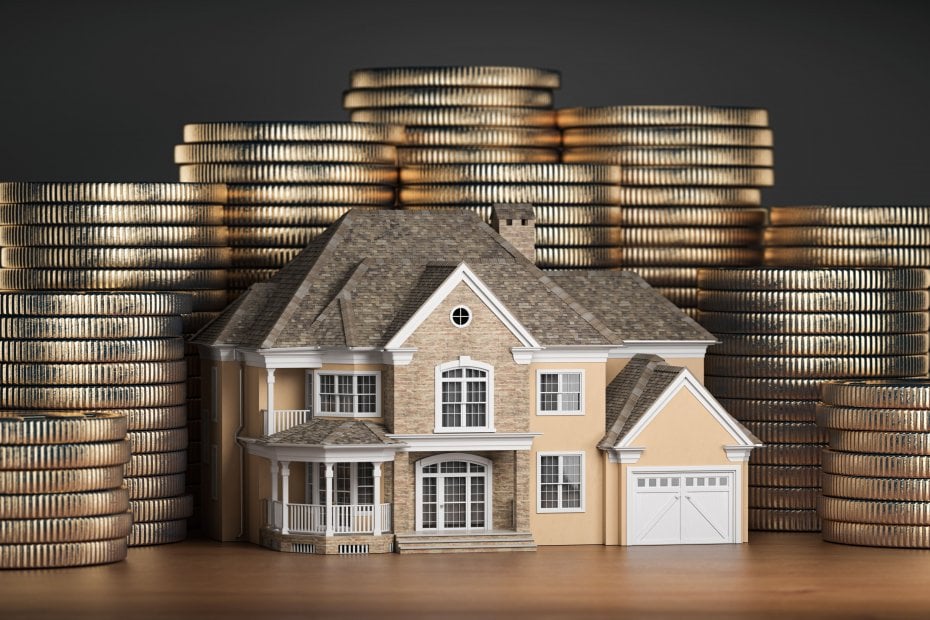 FLIPPING HOUSES 
Speculation in Real Estate 
Real estate is a risky business, and there are no guarantees on every piece of land or property. Be careful and educate yourself before dropping a big chunk of change on any property. First, you need to know the difference between speculators and investors. Real estate speculators aren't the same as investors. Speculators buy and sell quickly in order to make a fast profit. Investors seek out long-term gains and look for what they can afford to keep for the long haul. You must consider your finances carefully to determine which option is right for you.
If real estate investing is new to you, hold off on speculation until you're more familiar with the market. And consider consulting a property specialist to help you get your feet wet without getting soaked. For the novice real estate investor who wants to own physical property, there are two good options: small rental properties (like single- or two-family homes, or four-apartment buildings), or a house that requires some fixing up. Of all the ways you can invest in real estate, single-family houses may offer the clearest opportunities for new investors, mainly because they're very easy to acquire and usually easy to sell.
Hiring Professionals  

If you take a day to paint instead of hiring a painter, do you really save that much? If you hire a painter, you can spend the day finding another bargain property—perhaps one with a $20,000 profit margin. If it takes you 100 hours to find, fix, and sell this property, you have, in essence, paid yourself $200 an hour!
You may be able to reap big profits by buying older, run-down homes and restoring them for resale. This is a very common way for investors to approach real estate, and while it can bring in some tidy profits for some, it's not for everyone. Here are some factors that you'll need to consider before making the decision to invest in a fixer-upper:
You'll need to know at least something about building design and construction in order to have an idea of how much work (and money) it will take to get the house into good shape. Figure out what you can do yourself and also how much it will cost you to hire someone else to do it. Remember to factor costs for building materials, contractors, and your time into the property's purchase price.
Staying power. Do you have the patience to withstand the problems that are bound to crop up as you restore the property? Real estate can be a bigger commitment than many people expect. Plus, in down markets, property— even fixed up, premium property—can be difficult to sell for a profit, and you may have to wait for prices to go up again.
Hire a professional home inspector to do a comprehensive inspection of any property before you agree to purchase it. It's critical to be fully informed of all the potential pitfalls you might encounter once you start rehabbing the property, but keep in mind that no inspector will be able to spot all the problems.
The location of the property is the most important factor to consider. Study the neighborhood, shopping, and transportation facilities. Think about how the property can be used based on its location and zoning. Residential rental property in a good school district will attract young families. Property with easy highway access could be very valuable for commercial purposes.
Location Tip  

Seasoned house flippers suggest that one way to look at the location is this: Buy the worst house in the best neighborhood. Through your hard work, you can im- prove the house and sell it for a profit. Bringing back a neighborhood is a much longer, more expensive process and involves many more people.
If you want to invest in commercial property or executive rentals, look for property within thirty miles of a city. If you are willing to look outside the cities, you can usually find inexpensive land. If you discover a tract of land that appeals to you but is not listed for sale, you might be able to track down the owner by visiting the county register or calling the county appraiser's office. You can always try to contact the owner with an offer—she just might be willing to sell.
Get Rental Insurance  

If you decide to rent your investment property, be prepared to get rental insurance and property insurance. Your homeowner's policy most likely won't cover renters, and you need protection against any damage done by your tenants. This also covers you if tenants try to blame injuries on you.
Most real estate professionals will tell you to stay conventional in your real estate investment strategies and not to buy white elephants. Of course, you must also look for hidden defects in the property before you buy. If you find any problems after the purchase, you will be the one who has to fix them, especially if you're trying to make the property attractive for resale. Pay attention to what's going on locally, and be sure your planned purchase makes sense. Will there be a demand for this kind of property in five or ten years?
Always be on the lookout for things that make a sale easier, like a bargain property or extraordinary features. Potentially profitable real estate opportunities exist during good economic times and bad, but it is critical to make wise decisions and pick carefully to get the best deals. This can be a tricky proposition for any investor, especially when property values are at their peak, or when a tight credit market makes securing a loan seem harder than winning the lottery. The following example illustrates why you should take demand and location into account in purchasing a property.
After watching their children grow up and go off to college, a couple decided they did not need such a big house any longer, so they bought a beautiful place in upstate New York that needed some work. They made improvements and additions, and after just two years the house had increased in its appraised value. However, the house next door was empty. The bank had foreclosed on it, and the structure sat empty and unkempt. Furthermore, an important local industry was laying off workers. To make a long story short, the couple saw that if they wanted to sell, they would have to drop their asking price substantially.
A house with an empty property next door in an economically depressed area is not desirable enough to sell for its appraised value. Any property is only worth what the buyer is willing to pay for it.
RENTAL PROPERTIES 
Long-Term Investments 
If you are considering making a real estate purchase for rental purposes, you will choose between commercial and residential property. You need to assess your own financial situation first, as this is not the most liquid investment. It's important to determine how much money you will need upfront, how much money you can borrow, and what the terms of the loan will be. Investment capital is the first item on your agenda.
If you do not have it, you'll need to borrow it. New investors are usually advised not to borrow for the purpose of buying real estate. Unlike stocks or bonds, you cannot start out with a $100 investment.
Tax Benefits  

Real estate investing can come with a big tax benefit. Special tax incentives for real estate investors can make a big difference in your ultimate tax liability. Rental property deductions may be used to offset other income. In fact, tax breaks can transform real estate losses into profits.
Make sure you do all your homework about a property's location even if you think it's a once-in-a-lifetime deal. A house that seems like a steal today may not seem like such a great deal in a few months when a major highway construction project comes through its front lawn. Find out from the local municipality what building projects are slated nearby—particularly projects like schools, highways, shopping centers, and industrial or commercial centers. All of these developments can impact traffic issues and property values.
Sometimes a great property offered at a great price means the seller knows something you don't about an upcoming event that will impact the resale value of the property. If you are purchasing a commercial or residential property with the idea of renting it out or selling it in the future, you need to consider the following:
Is this a prime location? Remember, location still means everything in real estate.
Has this property been rented successfully before?
How old is the property?
Has it been thoroughly inspected and given a clean bill of health? You may need to arrange for this yourself, thoroughly inspecting and fixing electricity, plumbing, and the foundation and roof. Everything must comply with local safety ordinances.
How much renovation and work needs to be put into this property? This will follow, in part, from the inspections. Changing the interior to fit your business or rental needs is an important cost factor.
How much will it cost to maintain the property? Do you need gardeners? Will a janitor be needed on the premises at all times? Upkeep is important in evaluating the potential resale or rental value of the property.
What are the zoning laws in the area? This is particularly important if you are opening a new type of business in a commercial property.
What is the accessibility to and from the property? You may find the perfect little hideaway for a summer rental, but a business property will need to be accessible.
What plans are being made for the future of the area? Is a new highway coming through that would help your business by providing high visibility, or will it ruin the vacation value of your secluded villa?
How much insurance will you need? What are the rates for that property in conjunction with the purposes of your investment?
What property taxes are applicable? What can be deducted?
If this list hasn't scared you off, you might be the ideal real estate investor. Not unlike investing in stocks, there is an issue of timing when it comes to investing in real estate. The stock market, over time, tends to end up ahead. Real estate should as well. However, the economic climate can change, so real estate, like any other investment, can be risky.
Managing Your Rental Properties 
In addition to the money, there are other complex aspects of buying real estate for the purpose of renting or selling. It's important that you have good management skills and an eye for detail, as there are numerous details involved with any property. You need to be able to maintain the property, which means proper upkeep. You have to factor that into your costs. Unless you are very handy, you will need to know how and where to find the right electricians, plumbers, and contractors. Maintaining a property is a major responsibility; unlike stocks or bonds, you are responsible for keeping this investment in good condition. If you decide to make the leap and purchase a rental property, you will be entering the world of the landlord. If you have been a renter, you know a good landlord can make life easy, while a bad landlord can make life miserable. How you act as a landlord will have a great impact on the well-being of your investment.
Check Renter History  

Always check a renter's credit history, background, and references. If you don't screen your tenants and select them carefully, you could encounter numerous problems later: a tenant who's always late with the rent, damages your property, moves in objectionable friends, or worse.  
Problems will arise in any rental situation, and the way you handle them is important to maintaining the property at a reasonable cost. It's far easier to make the effort to maintain a property when it's your own residence. However, you'll have to do as much work—if not more—to protect your investment. If the investment is taking up too much of your time, you are basically losing income.
That's time you could be spending earning money somewhere else. If you are spending hours maintaining a property, you are cutting into your income-earning time and losing money in the process. People choose stocks, bonds, and mutual funds as investments partly because they require little work to maintain. Good communication with your tenants is crucial to your ability to be a good landlord and to protect your valuable investment.
Tenants need to understand your expectations, as well as your rules and regulations, in advance of entering into an agreement to lease your property. Any changes in the rules need to be expressed and explained in writing with sufficient notice to tenants. Make sure all communications with tenants are done in writing and that you can prove the communication was delivered to the tenant.
No matter what shape it's in, you cannot expect to buy a rental property, immediately find tenants, and then just walk away and let the monthly rental checks roll in. If you aren't prepared to manage your rental property, or if you just don't have the time, hire a professional property manager. Property managers take care of daily repair and upkeep issues, landscaping needs, tenant concerns and complaints, and collecting rent. Fees vary based on the level of work required and the size of the building involved. You can hire an individual to do this work or contract with a management company. If you think you're going to need a professional manager to handle your rental property, make sure you factor that cost into your decision to buy the property and the rental costs you pass on to your tenants.