Individual stocks are not the only form of investing. There are many other things in which you can invest, and three of the most popular are bond investment, mutual funds, and exchange-traded funds (ETFs). Where you put your money is both a matter of personal style and your tolerance for risk.
The advantage of mutual funds, for example, is that essentially you're hiring someone else to manage your money for you. On the other hand, you may not think of that as an advantage, since you don't like ceding control over your investments to someone else. In this chapter, we'll look at these three types of investment—their advantages and disadvantages.
WHAT ARE BONDS? 
Loaning Money for Interest 
Bonds are part of a completely different asset class than stocks. Like the stock market, the bond market is heavily influenced by global economic and political trends—but to a much higher degree. In fact, the world bond market is considerably larger and more influential than the stock market, and much of the world economy depends on international bond trading.
The Definition of Bonds 
Bonds are marketable securities that represent a loan to a company, a municipality, the federal government, or a foreign government with the expectation that the loan will be paid back at a set date in the future (that is to say when the bond matures). Like almost all loans, bonds also come with an interest component, which can involve periodic payments over the life of the bond or single payments at maturity.
Bonds can be bought directly as new issues from the government, from a municipality, or from a company. They can also be bought from bond traders, brokers, or dealers on the secondary market. The bond market dictates how easily you can buy or sell a bond, and at what price.
Why Sell Bonds? 
Governments, whether municipal, state, or federal, sell bonds for a very simple reason: to raise money. Usually, the money is for a specific project: building a bridge, repairing a road, and so on. During the Second World War, the federal government sold bonds to raise money for the war effort.
A big part of the bond picture is interest. For lending them the money, the borrower (or issuer of the bond) agrees to pay the buyer a specific rate of interest at predetermined intervals. Bonds are sold in discrete increments (typically multiples of $1,000, with few exceptions), known as their par value or face value.
Bonds' maturities and interest rates vary:
Short-term bonds mature in up to five years
Intermediate-term bonds mature generally at seven to ten years
Long-term bonds usually mature around twenty to thirty years
Longer-term bonds typically will pay higher interest rates—averaging higher than 6% over the last fifty years—than short-term bonds. Though the bond's stated interest rate is a known factor, over time its yield (or effective interest rate) will fluctuate along with changes in prevailing interest rates; this matters primarily if you are trying to sell a bond.
Use Bonds Investment to Diversify
Because bond values often move in the opposite direction of the stock market, bonds can help you diversify your portfolio, thus reducing risk. They are also an important part of asset allocation strategies essential for good portfolio management. While bonds typically don't function as a complete substitute for stocks, they do make a strong complement, in addition to providing you with steady interest income.
A bond will have a date of final maturity, which is the date at which the bond will return your principal, or initial, investment. Some types of bonds—known as callable bonds—can be redeemed by the issuer earlier than that maturity date, which means that the lender pays you back sooner than expected. A $5,000 bond is worth $5,000 upon maturity (regardless of the price that bond would fetch on the open market), as long as the issuer does not default on the payment. The interest you receive while holding the bond is your perk, so to speak, for lending the money. Interest is usually paid semiannually or annually, and it compounds at different rates.
Bonds versus Stocks
Unlike a stockholder, a bondholder does not take part in the success or failure of the company. Shares of stock will rise and fall in conjunction with the company's fortunes. In the case of bonds, you will receive interest on your loan and get your principal back at the date of maturity regardless of how well a company fares— unless, of course, it goes bankrupt.
Bonds are therefore referred to as fixed-income investments because you know how much you will earn—unless you sell before maturity, in which case the market determines the price. Corporate bond prices, like stock prices, can be affected by corporate earnings. However, they are often affected to a much stronger degree by fluctuations in interest rates.
This is true even though the bond market itself often takes the lead in setting those rates. And both types of securities are subject to influences like terrorism, politics, and fraud.
Seven Features 
When you're considering a bond for your portfolio, remember to analyze these seven key features:
Price
Stated interest rate
Current yield
Maturity
Redemption features
Credit rating
Income tax impact
Together, these factors can help you decide whether this bond fits into your portfolio and meshes with your personal investment goals.
Bond Risks 
As a general rule, bonds, particularly U.S. government bonds, are considered less risky than stocks and are therefore considered a more conservative investment (government bonds are very low risk because there's little chance the government will go bankrupt). Bonds also tend to provide a higher rate of interest than you can get from a bank account or CD, and this, along with a steady flow of interest income, usually makes them attractive, relatively safe investments.
There are drawbacks and risks inherent to bonds. The most basic risk is that an issuer may default, meaning you will not get your money back. You can also lose money in bonds if you are forced to sell when interest rates are high. And you may not see the type of high returns from bond investments that you can realize from riskier equity mutual funds or from a hot stock.
WHY BUY BONDS? 
Reduce Risk 
Adding some bonds or bond mutual funds to your investment portfolio is a good idea, especially if you have a lower tolerance for risk. For investors of every kind, bonds offer a wide variety of benefits. Two are especially important:
Bonds can help stabilize a portfolio by offsetting the investor's exposure to the volatility of the stock market. Bonds inherently have different risk and return character than stocks, so they will necessarily behave differently when the markets move.
Bonds generally provide a scheduled stream of interest payments (except zero-coupon bonds, which pay their interest at maturity). This attractive feature helps investors meet expected current income needs or specific future monetary needs such as college tuition or retirement income.
Callable bonds and pass-through securities have less predictability, but investors are compensated for the uncertainty in the form of higher yields. Unlike stocks, bonds are designed to return the original investment, or principal, to the investor at future maturity date. This preservation of capital provides stability to your portfolio and balances the growth/risk aspect of stocks.
You can still lose your principal investment if you sell your bonds before maturity at a price lower than your purchase price, or if the borrower defaults on payment. By choosing high-credit-quality bonds, you can limit your exposure to default risk. Another noteworthy advantage: certain bonds provide unique tax benefits.
For example, you won't be paying any state or local income tax on the interest you've earned on your U.S. Treasury bonds. Likewise, the interest on your municipal bonds (usually) won't be subject to a federal income tax bite, and in some cases, they'll be free of state or local income taxes, too. A good broker or tax advisor can help you determine which bonds are best for you.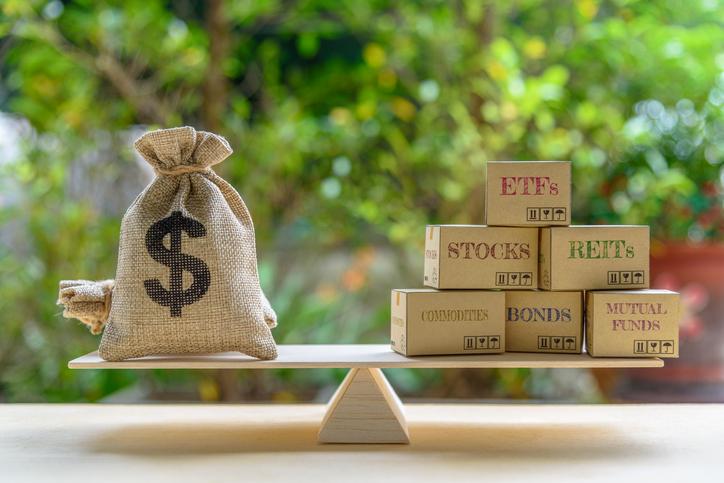 The Risks Unique to Bonds 
As is the case with all investments, there is some degree of risk involved in bond investing. There are several types of risks that pertain specifically to bonds. Here are three of the most significant risks and how they affect the bond market.
Call Risk 
Among the less common risks in bonds, investments are call risk, which means the issuer can buy you out of your investment before maturity. That can happen when rates drop and they want to call in high-interest bonds so they can issue new ones at the new lower rate. But situations like these are less common, especially in a period of stable or rising interest rates.
Credit Risk 
This is the risk of default by the company issuing the bond, resulting in the loss of your principal investment. This is why bonds are rated, just like people looking for credit. Government bonds—at least in theory—don't have this risk and therefore need not be graded; they are simply safe investments.
As a potential investor, you need to compare the risk and the yield, or return, you will get from different grades of bonds. If, for example, you will do almost as well with a high-grade tax-exempt municipal bond as you will do with a lower-grade taxable corporate bond, take the safer route and buy the municipal bond. Buying riskier bonds, or lower-grade bonds is only worthwhile if you will potentially see returns big enough to merit taking that credit risk.
Interest-Rate Risk 
If you are holding a bond to maturity, interest-rate risk is not terribly significant, since you will not be particularly affected by changing interest rates. However, if you are selling a bond, you need to concern yourself with the rate of interest that ties in with the yield of the bond. Essentially, the risk is that you will be stuck holding a long-term bond that pays less than the current interest rate, making it hard to sell and reinvest your capital.
Avoid Defensive Buying 
Buy bonds based on your needs and financial situation. Plan to buy a particular bond and hold it to maturity. Don't be intimidated by a broker who asks, "But what if you need to sell the bond?" Buying just in case you need to sell is defensive buying, and you may regret it in the long run.
The longer the maturity of the bond, the more a change in yield will affect the price. You will better manage interest-rate risk by buying shorter maturities and rolling them over. However, if you are looking for higher returns over a longer period of time, you should go with the longer-term bond and hope you do not have to sell it.
Many financial brokers talk a great deal about the interest fluctuations on bonds. This is because they are in the business of buying and selling them. Many bond owners, however, tuck bonds away for years and enjoy the income generated. Therefore, before worrying greatly about the interest-rate fluctuations making your bond more or less valuable in the secondary market, decide on your plan. Are you buying bonds to sell them or to hold them to maturity?
If you consider yourself financially sound and are simply looking to purchase a long-term bond for a future goal, then by all means go with your plan. Since the idea is to hold onto the bond until it matures, you will enjoy the higher yield. Even if you are forced to sell a fifteen-year bond twelve years toward maturity and you take a loss on the price, you will have still enjoyed higher yields than you would have with short-term bonds.
Income Risk 
This is a double risk: first, that should you sell, you won't get the full value (or par), and second that inflation will surpass the rate of income you are receiving from the bond (known as inflation risk). If you are reinvesting your interest income, you also will see less immediate income. However, you will be building your investments.
The best way to manage income risk is to stagger or ladder your bonds so that you can pick up the higher interest rates along the way. Inflation risk can be combated by simply re-evaluating your asset allocation and possibly moving to an investment that is higher than the inflation rate until it drops. If you already have an income-producing bond paying a rate of 3.9%, and inflation has gone up to 4.1%, you can reinvest the income in a higher-yield (perhaps slightly riskier) vehicle. An equity fund will more likely beat the inflation rate.
How Good Is a Bond? 
Corporate bonds and some municipal bonds are rated by financial analysts at Standard & Poor's (S&P) and Moody's, among others. The ratings indicate the creditworthiness of the bond issuer and are, therefore, a report card of sorts on the company issuing the bond. Analysts look at the track record and financial situation of the company, the rate of income, and the degree of risk associated with the bond. All of this information is put together, and the bonds are graded. This is very similar to a personal credit rating, where people who are more likely to pay their debts in full and on time get higher scores than people who may not pay on time, or at all.
A rating or grade of AAA goes to the highest-quality bond. Bonds rated AAA, AA, A, or BBB (Aaa, Aa, A, or Bbb in Moody's system) are considered high quality.
BB or B bonds are more questionable.
Anything below B, such as C- or D-level bonds, are considered low-grade or junk bonds. However, if you pick the right rising company, a junk or high-yield bond can be very successful. But the risks are high, especially the default risk.
How Do Bonds Pay Interest? 
A fixed interest rate is the most common, although interest can be paid at a floating rate, which changes based on economic conditions. Zero-coupon bonds pay no ongoing interest. Rather, they are sold at a deep discount and redeemed at full value, causing them to build up, through compounding interest, to their face value.
If you own corporate bonds that used to be solidly rated but have fallen on hard times, you have two choices: sell or hold. Part of your choice will be based on whether you believe the company will turn itself around and get back in the black; the other side of the decision is more immediately practical. If you don't believe the company will ever be able to pay its debts, get out while you can; if you believe the company will pull through—and maybe even emerge stronger—consider keeping the bonds.
When the bond is in your portfolio primarily for income purposes (i.e., regular interest payouts that you count on as income), and that income stream is still flowing, it can make sense to hold onto it. On the other hand, if the bond is used as a hedge against riskier stocks or to give you a big lump of cash down the line, consider selling right away before the bond price drops so low that you won't recoup a sizeable chunk of your investment.
Bond ratings for an issuer can change over time. A company issuing BBB bonds may become a much more stable fixture as a largely successful company, and their bonds may be A-rated next time they are graded. The opposite can happen as well: Highly rated corporations can fall on hard times and have their debt downgraded, sometimes substantially. It's a good idea to keep tabs on the grades of the bonds you own for the purpose of potential resale, as the grade does affect the bond's marketability.
Bond Yields 
When it comes to bond investing, you need to know about the two types of yields: the yield to maturity and the current yield. They absolutely affect how much your bonds are worth on the open market. One of the most (if not the most) important factors in determining bond yields, and therefore bond prices, is the prevailing interest rate. Essentially, the stated interest rate on your bond will be compared to the current interest rate for equivalent debt instruments. Whether this is higher or lower makes a big difference in the amount for which you could sell that bond.
Current Yield
The current yield is the interest (expressed as a%age) based on the amount you paid for the bond (rather than on its face value). A $2,000 bond bought at par value (at $2,000) receiving 6% interest would earn a current yield of 6%. The current yield will differ if you buy the bond at a price that is higher or lower than par.
For example, if you bought a $2,000 bond with a rate of 6% for $1,800, you have paid less than par and bought the bond at a discount. Your yield would be higher than the straight interest rate: 6.67% instead of the stated 6%. To calculate that yield, multiply the $2,000 face value by .06 (the stated interest rate), and you get $120 (the annual interest payment). Now divide that by $1,800 (the amount you paid for the bond) to get .0667 or 6.67% current yield.
Average Return on Bonds 
Historically, the average return on bonds, particularly on Treasury bonds, is very low compared to the return on stocks. But this is not always the case. According to an article entitled "The Death of the Risk Premium: Consequences of the 1990s by Arnott and Ryan (Journal of Portfolio Management, Spring 2001), stocks could underperform bonds in the decades ahead by about 0.9% a year.
Yield to Maturity 
Generally considered the more meaningful number, yield to maturity is the total amount earned on the bond from the time you buy it until it reaches maturity (assuming that you hold it to maturity). This includes interest over the life of the bond, plus any gain or loss you may incur based on whether you purchased the bond above or below par, excluding taxes.
Taking the term of the bond, the cost at which you purchased it, and the yield into account, your broker will be able to calculate the yield to maturity. (You need a computer to do this; the math is extremely complicated.) Usually this calculation factors in the coupons or interest payments being reinvested at the same rate.
Knowing the yield to maturity makes it easier to compare various bonds. Unlike stocks, which are simply bought at a specific price per share, various factors will come into play when buying a bond, including term of maturity, rate of interest, the price you paid for the bond, and so on. The idea here is to determine how well the bond will perform for you.
Importance of Interest Rates to Yield 
Interest rates vary based on a number of factors, including the inflation rate, exchange rates, economic conditions, supply and demand of credit, actions of the Federal Reserve, and the activity of the bond market itself. As interest rates move up and down, bond prices adjust in the opposite direction; this causes the yield to fall in line with the new prevailing interest rate.
By affecting bond yields via trading, the bond market thus impacts the current market interest rate.
The simplest rule of thumb to remember when dealing in the bond market is that bond prices will react the opposite way to interest rates. Lower interest rates mean higher bond prices, and higher interest rates mean lower bond prices. Here's why: Your bond paying 8% is in demand when interest rates drop and other bonds are paying 6%. However, when interest rates rise and new bonds are paying 10%, suddenly your 8% bond will be less valuable and harder to sell.
The Yield Curve 
The relationship between short-term and long-term interest rates is depicted by the yield curve, a graph that illustrates the connection between bond yields and time to maturity. The yield curve allows you to compare prices among bonds with differing features (different coupon rates, different maturities, even different credit ratings).
Most of the time, the yield curve looks normal (or "steep"), meaning it curves up- ward—short-term bonds have lower interest rates, and the rate climbs steadily as the time to maturity lengthens. Occasionally, though, the yield curve is flat or inverted. A flat yield curve, where rates are similar across the board, typically signals an impending slowdown in the economy. Short-term rates increase as long-term rates fall, equalizing the two. When short-term rates are higher than long-term rates (which can signal a recession on the horizon), you get an inverted yield curve, the opposite of the normal curve.
How Are Bonds Priced? 
If you want to sell a bond or buy one on the bond market, you first need to know the latest in bond prices. For this information, you can go online to a financial newspaper such as The Wall Street Journal or Barron's, or to the financial section of USA Today or your local paper.
Bond prices do fluctuate, so the price you see quoted may change several times throughout the next business day. Since there are far too many bonds to list—1.5 million in just the municipal bond market alone—there is no single complete listing.
A single listing would not be practical, as many bondholders hang onto their bonds until maturity. Therefore, the listings you will see are benchmarks from which you can determine a fair price. Interest rates impact bond prices in a broad sense.
Fixed-income securities, as a rule, will therefore be affected similarly. In the bond listings, you will find key information for Treasury, municipal, corporate, and mortgage-backed bonds. The numbers you will see listed may vary in for- mat from paper to paper, but will include the following:
Rate 6.5 percent: This is the yield that the bond is paying.
Maturity March 2018: This is the date of final maturity—in this case, March of 2018.
Bid 103:12: This means a buyer is offering a bid of $1,033.75 on a $1,000 bond, or a profit of just over 3 percent to the bondholder who bought the bond at a par value of $1,000. The numbers before the colon represent the percent of par value of the bond (in this case, 103 percent of $1,000 is $1,030). The numbers after the colon are measured in 32nds of $10 (here, ¹²⁄32 gives you $3.75 to add to that $1,030). This math works the same way for both the bid and ask.
Ask 104:00: This is the seller's lowest asking price, in this case, $1,040.00.
You might also see an Ask/Yield entry, which gives the bond's yield to maturity based on the asking price. This shows how much the buyer will earn on the investment based on the interest rate and the cost of the bond. A buyer who bought the bond at more than the face value will receive a lower yield-to-maturity value. The opposite is true if the bond was purchased at a discount, which means it was purchased for less than par.
Stocks or Bonds? 
While the stock market sees consistent gains for long-term players, its volatility can be too much for some investors. During particularly volatile periods, more investors look to the bond market. Also, as more people reinvest money from plans like 401(k)s and pension plans, bonds become attractive places in which to invest. They offer income as well as greater security than equities.  Bond trading is brisk, so the price you see in the paper is likely to change by the time you make your decision to buy or sell. The price will also be affected by which broker can get you the best price on a particular bond. Don't forget that the dealers set their prices to allow for a spread, their profit on the transaction.
How to Buy and Sell Bonds 
Bonds are almost always purchased through brokers and brokerage houses. All the major brokerage houses handle bonds and can get you the best bond rates. They trade bonds that are already on the market and will inform you about new issues. This is true for corporate and municipal bonds as well as certain types of government bonds, such as Treasury bonds.
Using a bond broker is a big commitment, though, as most demand a minimum $5,000 investment to get you started in the bond market. If you're more of a do-it-yourself investor, you can buy Treasury bonds directly from the U.S. Treasury Department through the aptly named Treasury Direct service (www.treasurydirect.gov). Savings bonds can also be purchased from Treasury- Direct and also through most banking institutions. Savings bonds are inexpensive—you can invest as little as $25. You won't pay any state or local income taxes on the interest, and you can buy them without paying commissions.